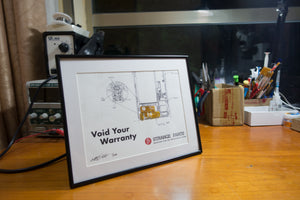 Framed Headphone Jack Circuit Board
Regular price $30.00 Sale
I designed custom circuit boards to add a headphone jack to my phone. And I made a special edition of those boards, just for you. They're hand signed and numbered by me, and will look great on your wall, desk, or bookshelf (there's a stand in back).
A warning though - I don't recommend you use these boards to actually add a headphone jack to your phone. As you saw, I broke a lot of stuff when I tried it, and unless you have access to a ton of spare parts, or really don't care if you break your phone, this is probably not a good hobby project, but it's a great way to support me and what I do. The traces on the board were fully tested by the factory though, so in theory, they would work if you correctly soldered the parts on.
I only have a limited number, and will never make more that are quite like this, so if you want one, buy it now before they sell out!
Thanks for supporting Strange Parts - I have a lot more exciting adventures in the works.
P.s. The price includes shipping anywhere in the world.